Hofanlage / Ranch
Unser Hof besteht aus einem Reitplatz, einem großen Stall und einem zweiten kleineren Stall sowie einigen Außen-Boxen. Natürlich sind Anbindplätze für das Putzen und Satteln der Pferde vorhanden. Der Hof ist komplett eingezäunt.
Wir haben auch eine Reiterstube mit Sitzgelegenheit innen und außen, wo man sich entspannen kann und bei gemütlichen Grillabenden auch mal so mancher Cowboy Geschichte zuhören kann.
Our ranch has it's own riding-space, a big barn and a second smaller one. We've a few outdoor-boxes for the horses too. Of course there's a area to clean up your horse and sattle it up to take a ride. The whole ranch has a fence around it's area.
We also have a room to sit down near the horses, where you can relax and listen to Cowboy stories while having a BBQ.
Pferde Stall und Reitplatz / Horse Barn and Riding Space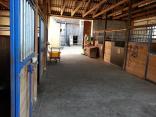 Hauptstall / Main Horse Stable
Unser Hauptstall besteht aus acht Einzelboxen wo unsere Pferde ausreichend Platz finden und täglich gefüttert werden. Jede Box ist mit einem separatem Namensschild markiert, so das man schnell herausfinden kann wer wo steht.
Out Main Horse Stable has eight single-horse boxes with enough space for each horse. There they get feeded every day. Each box has a shield that tells you who's home is it.
Scheune / Nebenstall - Barn / secondary stable
Hier sind die Futtervorräte gelagert und auch hier sind Einzelboxen für Pferde untergebracht. In der Scheune befindet sich für den Fall der Fälle auch eine komplett separate Quarantäne-Box.
Our barn holds feed and a few single horse boxes where we've placed some of the horses, too. Inside the barn is a separated horse box for quarantaine in an emergency case.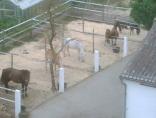 Paddock-Boxen
In der Außenanlage befindet sich fünf Paddock-Boxen, wo tagsüber die Pferde die Sonne und frische Luft genießen können, schließlich will niemand den ganzen Tag im Stall verbringen.
We've five outdoor paddock-boxes where our horses can enjoy the sun and fresh air threw the day.
Weiden / Pasturage
Wir haben auf unserem Gelände auch eingezäunte Weideflächen, wo die Pferde sich frei bewegen können.
We also have fenced pasturage-areas where the horse are free to run and play.
Reitplatz / Riding Space
Unser großer Reitplatz bietet ausreichend Platz. Hier findet unserer Reitunterricht statt, hier können die Pferde Longiert werden oder auch an Hindernissen die unserer Holzbrücke trainieren.
Ist der Reitplatz gerade nicht belegt, so nutzen wir diesen auch als Freilaufzone für unsere Pferde.
Our huge riding space offers enough space for horseback-riding classes, lunge your horse and even offers some obstacles like a small wooden bridge where you can train your horse.
If it isn't occupied, we use it to let horses run free, too.
Pferde unterstellen / give your own horse a home
Bei uns können Sie auch Ihr eigenes Pferd unterstellen, sollten Sie einen längeren Aufenthalt mit Ihrem eigenen Pferd planen oder auch in der Nähe wohnen und nach der Suche nach einem Unterstellplatz sein. Das wohl der Pferde liegt uns sehr am Herzen und wir werden jedes Pferd wie unsere eigenen behandeln.
You also can bring your own horse for a couple of days or if you live in the area place your horse in our barn. We're very concerned about horses and will handle each horse as our own horses.
Stallplatz Preise für Pferde / barn space prices for horses
Art der Unterbringung

Type

Preis pro Tag

Rate per day

Stallplatz (ohne Ausmisten / ohne Kraftfutter)

Stall place (without cleaning up / without concentraded food)

€ 12,-

Stallplatz (ohne Ausmisten / inkl. Kraftfutter)

Stall place (without cleaning up / includes concentraded food)

€ 15,-

Ausmisten / cleaning up
€ 5,-
Reiterstube - Sattelkammer / Horseman Lounge - Saddle Chamber
Eine Sitzgelegendheit und ein Holzofen gehören zu den Anehmlichkeiten unserer Reiterstube. Vor allem aber werden hier auch die Sättel trocken und hinter einer verschließbaren Tür gelagert.
Seating accomendations and a wood-stove make this place comfortable for everyone at anytime. But in the first place we store our sattles in here, because it's a good place to keep them dry and safe behind a locked up door.